Massive Attack promise new material
Massive Attack are planning to "randomly" release new EPs in 2011. The UK dance group took seven years to bring out their last album 'Heligoland' earlier this year, but are keen to follow it up with more new material - which they are planning to release "spontaneously".
The group's Robert '3D' Del Naja told Clashmusic.com: "We got quite a bit of EPs out next year.
"We're tired of the cycle of album, tour. It's more fun putting things out randomly, sort of spontaneously.
"We've done it quite traditionally this year, so maybe next year, a bit unorthodox."
The 'Unfinished Sympathy' band - which also includes Grant 'Daddy G' Marshall' - have already announced one release, 'Atlas Air EP', for November 22, with all proceeds going to charity War Child.
Explaining the long period between 2003 album '100th Window' and 'Heligoland', Robert said: "It was a time that had to follow its own path," but reassured fans by adding: "Next year will be a different year. A big factor is not working on film scores a bit."
No comments yet.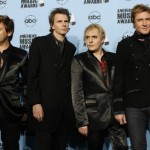 about 4 days ago - No comments
With only one week to go, Duran Duran have regretfully had to pull out of their upcoming South African tour dates (which were slated to take place from 7 to 12 December) because the show promoter defaulted on the contract, leaving the band members with no other option but to cancel the shows.