FEZ: New Xbox Live game with awesome perspective shifting
FEZ is a new Xbox Live game demo. At first glance it looks like a normal old school platform game. Don't let this deceive you however as this game has managed to create a very insane game world by using very clever perspective shifting to transform a 2D world in 3D. Check out the gameplay video below to see what we mean:
FEZ PAX EAST GAMEPLAY VIDEO from POLYTRON on Vimeo.


No comments yet.
No trackbacks yet.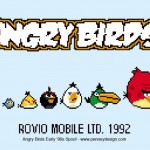 about 4 months ago - No comments
Everyone knows and loves the the highly addictive mobile game 'Angry Birds' by Rovio Mobile Ltd. We have dug up some really cool pics of what Angry Birds would look like as a 90′s style… Read the rest