Microsoft Surface: Improved and more cost efficient
Yet again we see another technology that takes us closer towards the sci-fi awesomeness of Minority Report and countless other movies. A lot of these technologies exist, the problem is that they are super expensive and difficult to manufacture. Microsoft has brought some of this technology several steps closer with their new smart surface.
At CES last night Microsoft showed off a new version of Surface, its tabletop touch computer. There have been several improvements over it's previous version, most notably the glass. There is now a piece of super-tough Gorilla Glass (the same glass that's on the front and back of the iPhone 4) on the surface of the table. The whole thing is only four inches thick and works with faster processors and sophisticated infrared sensors that give it finer resolution.
The main USP is called Pixel Sense, a miniaturized version of all those cameras that were formerly mounted underneath the glass surface of the table. Not only is this new version a lot tougher than its predecessor, making it a much more appropriate tabletop for rowdy bars; it's also a lot smarter. As Microsoft put it, "Every pixel is acting as a camera, so the surface of the PC can actually see."
Microsoft has taken the Surface concept another step further; now in addition to sensing fingers touching it, it can also read documents placed on its tabletop. In the demo, a piece of paper placed on the table was easily read by the Surface's touchscreen.
The technology is getting a lot cheaper, and Microsoft says you might be seeing Surface PCs in a lot more places soon, such as bars, kiosks and loads of other places. Sounds like a great idea… what we want to know is when?
Article and images via @Mashable
Check out our other article about full size touch screen technology: Displax Skin: Make any surface a touchscreen
No comments yet.
No trackbacks yet.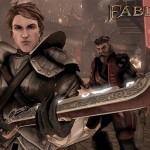 about 4 days ago - 1 comment
At Microsoft's CES keynote Press Conference this morning, Chief Executive Officer Steve Ballmer announced that the hugely popular Fable franchise is going to be released for Windows Phone 7. Fable: Coin Golf will allow players to earn money for their Xbox 360/PC character while playing away from their console.