Foursquare Race to Check In at the North Pole
This is pretty much testing a service to its limits as well as putting social media through its paces, and all for a good cause!
Fifteen-year-old Parker Liautaud and 44-year old David Newman are racing to be the first to check in at the North Pole via the awesome location-based serviceFoursquare
There has been a lot of hype around the platform lately and the two are leveraging of this to drive attention to an environmental issue in the Arctic region. So Foursquare have come to the party by creating a Last Degree Badge for their noble quest, which they are supposed to finish up this weekend.
Parker Liataud was the first to announce his plans to hit the Pole, he set off on April 3. Liataud is a California native and a student at Eton College, a boarding school in the UK, where the Princess Harry and William went to school, so its pretty laani. If he succeeds in his mission, he wont just be the first to unlock the Last Degree Badge, but he will also be one of the youngest people to ever ski to the Last Degree of the North Pole…period. General Electric is sponsoring Parker's expedition as part of the company's ecomagination initiative.
Liataud has used plenty social media channels to get the word out about his trip. He has set up a Facebook Page, The Last Degree. Fans can have a crack at guessing his arrival time, sign a virtual petition and submit video pledges to reduce carbon footprint. Liataud will be updating his Twitter account, YouTube channel and Flickr photostream as he cruises along.
His competitor, David Newman, CEO of the largest motorcycle insurance company in the United Kingdom, Carole Nash, has tethered a smartphone to a satellite phone to make sure he'll be able to check in to Foursquare when he reaches the North Pole. Newman has also set up a website, Flickr photostream and Twitter account so we can all follow his progress.
Nash is walking to the Last Degree, rather than skiing. Newman is self-sponsored and is raising money on behalf of Riders for Health, a charity that sorts out motorcycle transportation for health workers in Africa, and a brain injury treatment center.
So who is gonna get there 1st? Liataud, who is expected to arrive either tomorrow or the day after, tweeted at about 10 a.m. EST: "We've been drifting backwards at a ridiculous pace. At this stage we don't know if we're going to be able to get there."
Four hours earlier, Newman tweeted that he had just arrived in Stormy Barneo (60 miles from the Pole)
I think this is simply an amazing expedition and just goes to show how social media can be used in the furtherance of a good cause.
What do you guys and girls think of this?

No comments yet.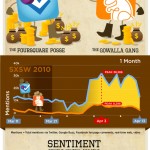 about 4 days ago - 1 comment